Mobile +39 3382084070 English and Spanish - sms - whatsapp
---
Office: via Ponte Vecchio, 82 C.A.P.06135 Ponte San Giovanni, Perugia, Umbria, Italia
Mappa località latitudine N 43.09148° longitudine E 12.48089°
---
Local office: Perugia - Milano - Roma - Firenze - Bologna - Ancona - Pesaro - Rimini - Siena - Arezzo - Terni - Viterbo - Rieti - Lucca - Prato - Grosseto - Livorno - Pisa - Urbino - Macerata - Ascoli Piceno - Forlì - Cesena - Ravenna - Teramo - Aquila
---
Partita Iva - 02716960543
---
PREZZI PROMOZIONALI 2017 PER STUDI TELEVISIVI, SERVICE VIDEO, STUDI DI PRODUZIONE, AGENZIE VIDEO, REGIE MOBILI ESTERNE, TROUPE ENG, NETWORK TV, FACILITIES VIDEO.
Disponibile su richiesta listino prezzi 2017 noleggio attrezzature cinematografiche, audio e video, telecamere 4K e full HD Sony, Panasonic, Jvc, Canon, jimmy jib Triangle Stanton, camera crane 120 Abc Products, mini jib, steadicam Easy Steady, slider, gimbal Dji, drone, monitor HD, batterie, schede di memoria, mattebox, follow focus, controlli remoti, treppiedi, dolly, teste fluide biasse, ottiche e accessori Zeiss, Nikon, Sony, Canon, filtri Schneider, Tiffen, B+W, set luci led e hmi Arri e Ianiro qualsiasi watt, Cinelight fresnel da 2k, Kino Flo, autopole, stativi, fustoni, pinze, magic arm, clamp, gelatine, pannelli e bandieri, prolunghe ad alta tensione con scatole di derivazioni e attacchi industriali segue...
Jimmy Jib Triangle Stanton crane camera fornitura e noleggio tutto centro/nord Italia braccio mobile fino a 9 metri completo di dolly pesante, testa camera remotata a 2 assi (pan/tilt) con controller joystick, controllo motorizzato zoom, fuoco e diaframma ottiche Canon/Fujinon, configurazione con operatore (comandi camera e registrazione) e macchinista (movimento meccanico del braccio). Esperienza decennale di ripresa con produzioni e video italiani e stranieri.
Jimmy jib 9 metri completo di testata remotata + controllo joystick + monitor + supporto per attacco su piattina.

- Jimmy jib per videoclip di Armin Van Buuren "Sunny Days" 2017
- Jimmy jib Emozioni 58 giri per Sic Valdichiana Outlet 2014
- video aziendale Lechler a Foligno
- riprese con Jimmi jib per Rai3 Rai Italia evento Musicultura 2011 a Macerata nelle Marche evento condotto da Fabrizio Frizzi.
- Service Camera crane Carnevale di Viareggio 2011 per Rete Versilia e Canale 39 di Lucca Toscana diretta televisiva.
- Service Jimmy jib e Steadicam per video redazionale Lechler coathing di Foligno in Umbria.
- Service camera crane jimmy jib calcio serie A Brescia - Roma diretta su Sky Sport HD, Mediaset Premium, e Roma Channel.
- Service Jimmy jib per viral video campagna abbonamenti Sky Italia "Liberi di scegliere 2010" a Milano (continua) Roma (continua) e Napoli (continua).
- Service Jimmy jib per videoclip musicale di Annalisa Baldi concorrente X-Factor "Ballo da sola" segue...
JIMMY JIB TRIANGLE STANTON SERVICE CAMERA CRANE
La nostra azienda con esperienza pluriennale è specializzata nella fornitura di Jimmy jib triangle di diverse lunghezze modulabili da 2 a 9 metri con testa remotata e/o dolly track con macchinista e operatore video.
Il braccio mobile video camera è utilissimo per realizzare produzioni televisive (anche in studi tv e sale di posa), film, fiction, cortometraggi, lungometraggi anche a basso costo, spot, video di ogni genere come concerti live, sport (calcio, ciclismo, atletica etc.), eventi live in genere, manifestazioni di piazza o in palazzetti, esterni ed interni edifici e panoramiche aziende e agriturismi, riprese in posizioni difficili da realizzare.
Il braccio camera Jimmy Jib Triangle Stanton si offre in noleggio per rendere più spettacolari le tue produzioni video, prezzo promozionale per tutto il 2017 (offriamo sconti particolari per più giorni di lavorazione) chiedi info... o chiama il +39 3382084070
Appartenente alla famiglia dei crane camera con testa remotata, il Jimmy Jib Triangle della Stanton è senza dubbio il più versatile e leggero. Tre le parti fondamentali che lo costituiscono: il braccio in lega leggera avional, il treppiede rinforzato e la testa remotata da 2 assi. Questi i vantaggi del sistema: estrema praticità nel trasporto possibilità quindi di raggiungere luoghi e location scomode; estrema versatilità nelle configurazioni lunghezza giusta verificabile sul set con unico operatore o con operatore e macchinista; estrema praticità di spostamento grazie al peso risulta pratico per cambi di scena con dolly.
Il Braccio

Il braccio, realizzato in lega leggera avional, ha sezione quadrangolare e viene sostenuto e irrigidito da un sistema di cavi d'acciaio con tiranti. La sua grande modularità permette di modificarne la lunghezza creando ben cinque diverse configurazioni.

I Movimenti

I movimenti della testa remotata (pan e tilt) vengono comandati attraverso un joystick modulabile in velocità sia in start/stop.

Lo Zoom

Lo zoom è in grado di remotare tutte le ottiche professionali e broadcast: in campo televisivo, le ottiche Canon Fujinon attraverso i vari cavetti di raccordo o con cavo dv lanc per Zoom, Fuoco e Rec/Stop.

Il Fuoco e il Diaframma

Il fuoco e il diaframma (iris - focus) vengono remotati applicando a tutte le ottiche motori ad alta precisione. Anche in questi due casi sono remotabili tutte le ottiche professionali e broadcast: in campo televisivo, le ottiche Fujinon, Canon, Lanc. Tutti i movimenti Pan, Tilt, Zoom, Focus sono regolabili in sensibilità e sono a controllo proporzionale.

Start e Stop

Start e stop remotato per tutte le telecamere. Due cavi video composito e un cavo camera triax, portano i segnali video dalla camera alla postazione di controllo.

I Comandi

Tutti i comandi atti al controllo dei movimenti della testa e delle funzioni remotate fin qui descritte, sono configurabili sia direttamente sul braccio, in modo che un operatore unico possieda il controllo di tutti i movimenti siano essi remotati (testa camera) che meccanici (braccio); e sia su postazione remota (main control box), per un utilizzo classico con operatore separato e macchinista al braccio camera.

Il Treppiede

Il treppiede può essere utilizzato a sé, oppure montato su un dolly con ruote in gomma pneumatica (off road), oppure su un dolly con doppie ruote per binario (track).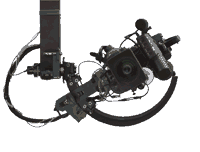 TESTA ROTANTE 360° PAN e TILT per camere fino a 20 Kg.
Remote pan & tilt head for cameras up to 20 kg. (tested up to 25 Kg.)

IDEALE PER L'IMPIEGO SU BRACCI TIPO JIB, CRANE o CAVALLETTO/CARRELLO
Easily mountable to any Jib, Crane, Tripod, dolly.

IL CONTROLLER JOYSTICK è DINAMICO E PROPORZIONALE, OVVERO VARIERA' LA SUA VELOCITA' IN ACCELERAZIONE O DECELERAZIONE, MAGGIORE O MINORE SARà LA PRESSIONE SUL JOYSTICK
The controller will work using a dynamic variable speed filter and the control is proportional type. Of course, so far you will move the joystick in any direction far from central point, so faster the head will move on pan/tilt direction.

IL CONTROLLER INCORPORA IL CONTROLLO DEL MOVIMENTO PARTENZA/ARRIVO CON RAMPE DI ACCELERAZIONE e DECELERAZIONE.
The controller will allow to you to get soft/start - soft/stop movements thanks to a special electronic board that controls acceleration/deceleration of the motors.

LA SCHEDA (INCORPORATA) PER IL CONTROLLO DEL PUNTO MORTO, VI PERMETTE DI AUMENTARE O DIMINUIRE LA SENSIBILITA' DEL JOYSTICK NELLA ZONA CENTRALE, PER EVITARE DI AVERE PARTENZE ACCIDENTALI.
You will also easily control the central area of joystick (AKA dead spot) that will move out or in than central area of the joystick the start of the motors.

AMPIEZZA DINAMICA DEL CONTROLLO MOTORI MOLTO ELEVATA.
- VELOCITA' MINIMA: 8 MINUTI / ROTAZIONE 360°
- VELOCITA' MASSIMA: 5 SECONDI / ROTAZIONE 360°

Wide range of dynamic speed control of the motors.
- min speed: 8 minuts / 360° rotation
- max speed: 5 seconds / 360°rotation

Il Kit include:
- Testa motorizzata pan/tilt con controller joystick e prolunga 10mt.;
- Cavo per controller remotaggio ottiche Canon / Fujinon;
- Cavo per controller remotaggio ottiche Lanc;
- Batteria DC 12V per alimentazione del controller.
L'unità è interamente modulare, il che ne consente l'impiego in ogni ambito operativo aggiungendo o sottraendo i moduli onde variare la lunghezza desiderata.
Le caratteristiche indiscusse di questo Jimmy Jib triangle sono la robustezza, è infatti costruito in lega Avional, la leggerezza, soli 1,9 Kg. per sezione, e la velocità nel montaggio.
Una sola persona è capace di montare la versione da 9 metri in 40 minuti, incluso il bilanciamento e l'operatività della videocamera.
Sono possibili le configurazione 'single hand' ad un solo operatore o 'dual hand' ovvero con operatore ai movimenti di macchina e macchinista.
Il prodotto è robusto, solido, ben costruito, di colore nero opaco anti-riflesso e vanta una precisione meccanica e del movimento pari a quella dei sistemi ben più costosi come il CamMate o l' ABC crane.

Con il braccio mobile Jimmy Jib triangle puoi rendere i tuoi servizi video originale e dinamici, il Jimmy Jib Stanton è un favoloso strumento utilissimo per riprese sportive, manifestazioni pubbliche, concerti musicali e riprese cinematografiche lo offriamo in noleggio completo di tutti gli accessori con il nostro macchinista e l'operatore video al costo più basso d'Italia.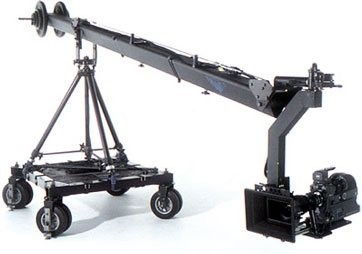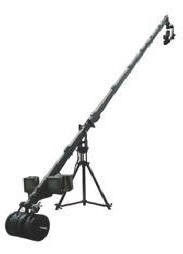 JIMMY JIB TRIANGLE STANTON CRANE
Vedi la nostra galleria fotografica sul Jimmy jib Triangle on the set.
Il Jimmy jib triangle in azione al Festivaldichiana edizione 2008 2009 2010 ed Emozioni per Sic 2013 2014 rassegna musicale all'Outlet di Valdichiana in provincia di Arezzo
Galleria foto del crane camera montato per uno spettacolo live di magia al Teatro Doninzetti di Bergamo
Galleria foto durante una ripresa di un video industriale con telecamera Panasonic HD segue...
Galleria foto durante le riprese di un programma tv per il network Tv 2 Denmark presso agriturismo nelle campagne di Siena segue...
Galleria foto backstage riprese Lamborghini Murcielago per documentario su National Geographic con Jimmy jib triangle aerial crane segue...
Jimmy jib service per produzione dvd evento live musicale "Attenti a quei 2" con Neri Marcorè e Luca Barbarossa a Roma
Service Jimmy jib per tutta l'edizione 2010 del Carnevale di Viareggio per la diretta televisiva di Rete Versilia segue...

Attrezzature video: Crane Camera - Jimmy Jib triangle Stanton - Cammate Series 2000 - Cambo Crane - Technocrane - Abc crane - Gb cam - Remote head - Braccio aereo video - Jimmyjib - cranes - camera dolly - Jib Video - camera jib - crane - jimmy jib pan&tilt remote head - gru per videocamera noleggio - braccio video per eventi live - Camera crane per service video - Pan tilt Head - gru camera - cam jib - pan tilt crane - aerial crane camera system - jimmy jib triangle - technocrane - cambo crane - kessler crane - dinamicam - movietech crane - abc products

EQUIPMENT FOR HIRE
MGvideoproduction specialises in the hire of Jimmy Jibs triangle Stanton and accessories. We supply a range of Jimmy Jibs that can be built to meet your exact production requirements.
All Jimmy Jibs triangle supplied by MGvideoproduction come complete with :
• Two Sony 9" high resolution monitors
• Self-contained cue-light system
• Complete spares back-up
Depending on your production requirements, a wide variety of mounts are available
• Off-road dolly
This popular three wheel dolly enables the crane to be moved over uneven terrain without the need to de-rig
• Four wheel dolly
This mount can be used with studio wheels or can be mounted on Stanton Jimmy Jib track. The four wheels make it a safer alternative, especially with longer length Jimmy Jibs
We also offer:
• Dutch Tilt and Roll Head 2 axis
• Range of Canon and Fuji Wide Angle Lenses
• Transport

OPERATORS AND ASSISTANTS
MGvideoproduction has a policy of supplying the best operators and assistants. All operators and assistants are fully conversant with the operation and safety of the jimmy jib camera crane.
CAMERA CRANES
MGvideoproduction supplies Jimmy Jibs for hire. The Jimmy Jib Camera Crane is recognised as reliable, safe, cost effective and robust. In addition its versatility and compactness make the Jimmy Jib a successful and popular crane, used on a wide variety of productions. It is valued for the ease with which it is transported, set-up and operated. The remote head is operated by one person who has control over pan, tilt, focus, iris, zoom and tape/film start and stop. Additionally the Jimmy Jib will interface with all video camera formats and 16mm and 35mm film cameras.
OUR EXPERIENCE & CLIENTS
MGvideoproduction has years of experience supplying Jimmy Jib Camera Cranes and operators on a wide variety of productions - from live television award programmes, sporting events, situation comedies, dramas, corporate events, pop promos and documentaries to commercials and concerts.
JIMMY JIB SPECIFICATIONS
The jimmy jib comes in various shapes and sizes and can be built to a variety of different lengths to meet your exact requirements. Below is a useful chart that lists the cranes supplied by MGvideoproduction and which shows the "lens height" and "reach" of each crane. Reach and not height is the most accurate way to compare jib arms. Reach is the length from the centre fulcrum at the tripod to the camera lens.
CONTACT US
If you have any enquiries you can contact us.
Please email us for a quote or to make a booking
ABOUT US
MGvideoproduction the company has been established since 1990 and provides a first rate jimmy jib service. We offer a range of Jimmy jibs and supply experienced operators as well as a range of jib accessories to cater for different production requirements.

All our equipment and operators are available to work both in the Italy. All travel arrangements and insurance are taken care of by us and we are compliant in all relevant health and safety regulations.

The rear section is the distance between the centre fulcrum and the back end of the arm. It is useful to bear this distance in mind when shooting in a confined space.
STANDARD *
Capacity: 65lbs (29.4kg)
Lens Height: 13ft (3.9m)
Reach: 6ft (1.8m)
GIANT *
Capacity: 50lbs (22.6kg)
Lens Height: 19ft (5.7m)
Reach: 12ft (3.6m)
GIANT PLUS **
Capacity: 50 lbs (22.6kg)
Lens Height: 23ft (7m)
Reach: 15ft (4.5m)
SUPER GIANT **
Capacity: 50lbs (22.6kg)
Lens Height: 25ft (7.6m)
Reach: 18ft (5.4m)
SUPER GIANT PLUS **
Capacity: 50lbs (22.6kg)
Lens Height: 30ft (9.1m)
Reach: 24ft (7.3m)
EXTREME ***
Capacity: 50lbs (22.6kg)
Lens Height: 33ft (10.6m)
Reach: 30ft (9.1m)
* 3ft rear section ** 6ft rear section *** 9ft rear section